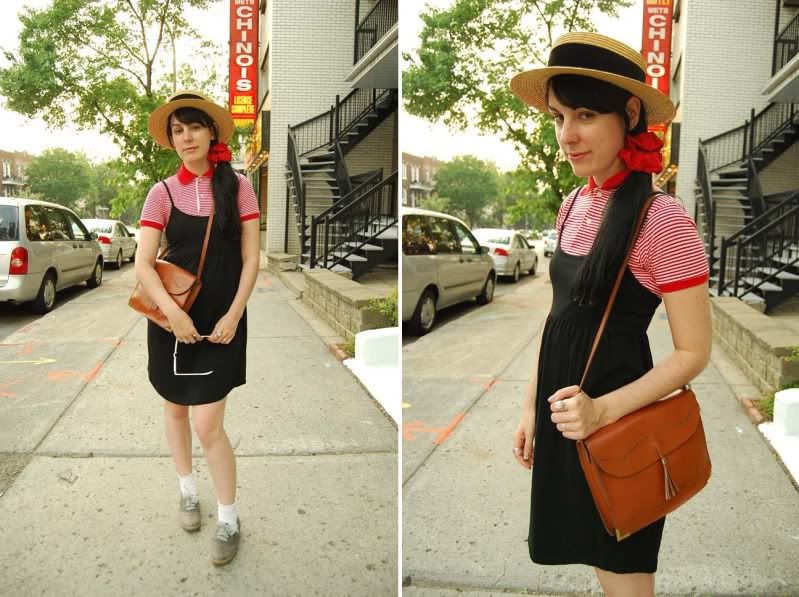 I am still loving the heat wave here in Montreal and taking walks to my favorite new gelato place in my neighborhood. You can get a little tub with 3 different flavors, I took Pistachio, creme brûlée and blueberry so good!
The inspiration behind this outfit is from a girl I saw walking down Queen street West in Toronto on my last road trip. She paired a Lacoste polo with a simple black jersey dress, I love the simplicity of this look and how chic it looks at the same time. I have quite the little collection of Lacoste polos thanks to Stéphane. I had no idea before how to style them up a little more then just with jeans or a skirt, oh! and this was the perfect outfit to showcase this red silk Dupion scrunchie I made myself, it's funny to think that these funny little things are making a come back. Maybe I should whip up a few and sell them, who knows!
I was wearing:
-Vintage Lacoste red and white stripped polo, gift from Stéphane
-Black dress from H&M
- Vintage straw hat
- Brown leather tassel purse borrowed from
YeYe Vintage Boutique
-White socks from H&M
-Grey oxford shoes by Everything all we ever wanted
-Grey shoe laces by AA
-Vintage specs from
Courage my love in Toronto
xo!