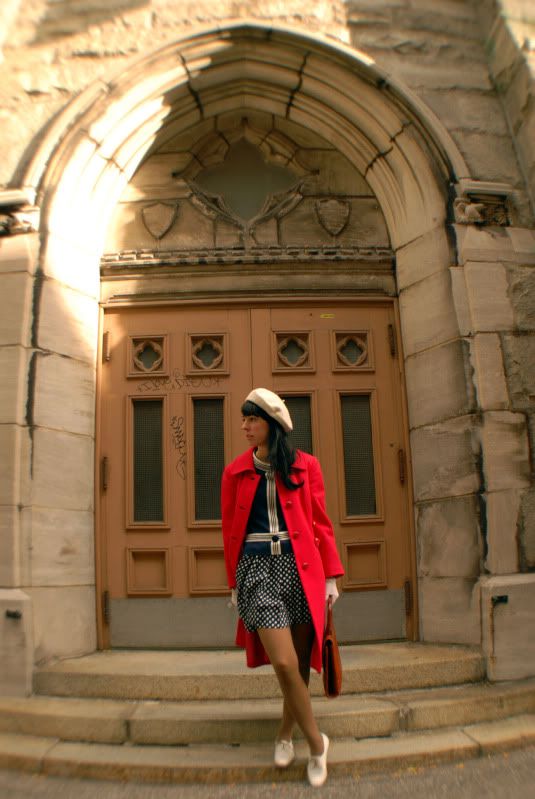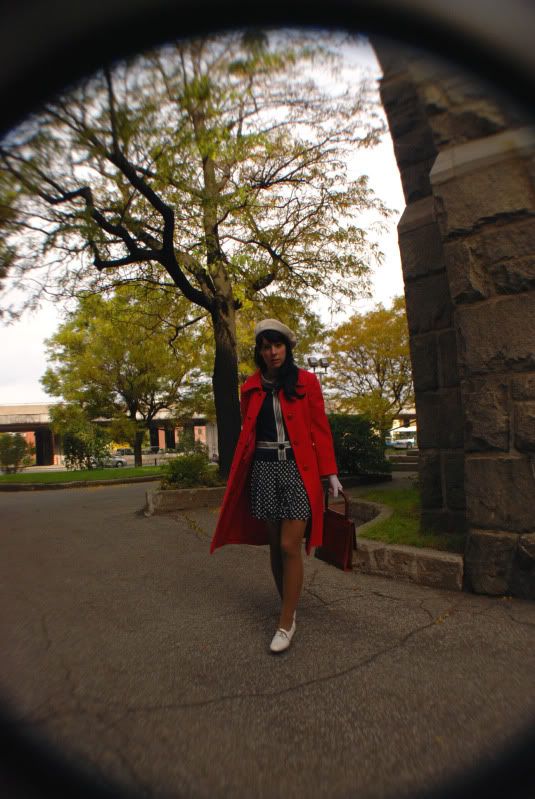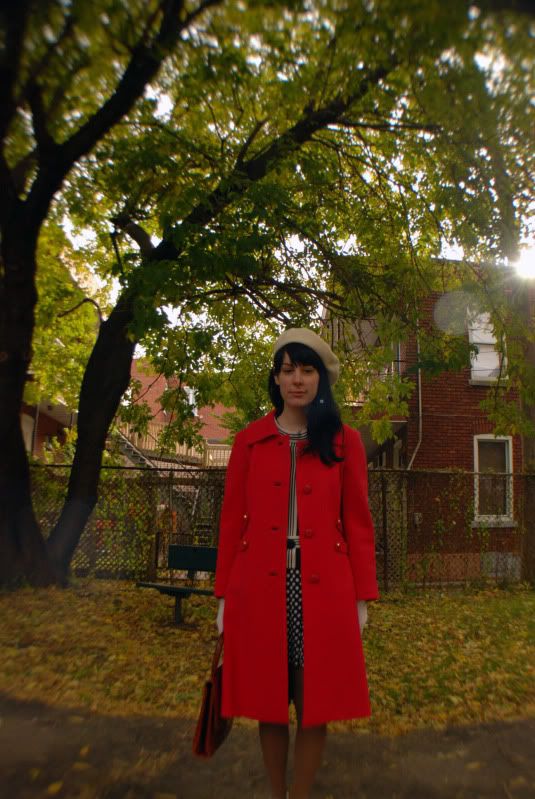 I got up pretty early this morning to take these pictures, it was so cold by the time I was done my hands were frozen and I ran back home with my huge camera and tripod in hand.
I was lent a wide angle lens over the weekend and I wanted to try it out on my favorite church grounds in my neighborhood. I have it for the week and then I have to give it back, I think I will get one for myself.
Today was one of those rare days I did not have to go into work, I love those days because I can work on my own stuff and the etsy shop. I took a bunch of pictures of sweaters for the cold temps coming our way.
I also have a new addition to the blog, my lovely mother is translating this blog to French for those of you Frenchies reading this blog :)
Today I was wearing:
-Vintage pink wool coat from the 60s
-Vintage 60s top from Beacon's Closet in Brooklyn NYC
-Vintage pleated polka dot skirt
-Tan tights from XXI
-Vintage white oxfords from Germany
-Vintage crochet gloves
-Vintage beret
-Vintage purse from the 60s
************************************************************************************
En Français!
Je me suis levée très tôt ce matin afin de prendre ces quelques clichés- Après avoir pris ces quelques photos, je suis retournée à toute vitesse à la maison avec mon énorme caméra et trépied – Il faisait si froid!!
On m'a gentiment prêté ce weekend une caméra avec une lentille grand-angulaire ( wide angle).
J'ai utilisé cette lentille pour prendre ces clichés à l'extérieur de mon église favorite située dans mon quartier. Je dois retourner la lentille à la fin de la semaine. J'ai bien envie d'en acheter une!
Aujourd'hui est une des rares journées où je ne dois pas me rendre au travail. J'adore ces journées - je peux alors me concentrer sur mes divers projets et ma boutique sur le site Etsy.
J'ai photographié pour vous tous un tas de pulls en prévision de l'hiver!
Ce que je porte aujourd'hui :
-Manteau vintage des années 60 en laine rose
-Haut vintage acheté au Beacon's Closet à Brooklyn – NY
-Jupe vintage à plis et à pois
-Collant Tan XXI
-Oxfords vintages de l'Allemagne
-Gants vintages crochetés
-Béret vintage
-Sac vintage des années 60