Last Fall, me and Stéphane were downtown doing our usual thing, checking out shops and buying treats at our favorite stores. We were accosted by a fellow who wanted to take our picture for the new Nylon Street Style book and we gladly accepted. It is now a little over a year later and we just discovered our faces in the book!
***
L'automne dernier alors que Stéphane et moi faisions le tour de nos boutiques préférées du centre ville, un photographe nous a demandé s'il pouvait prendre des clichés de nos tenues pour le nouveau Nylon Street Style Book – il va s'en dire que nous avons accepté avec enthousiasme! Et voici qu'un an plus tard j'ai découvert que nos photos ont été publiées dans le Nylon Street Style Book.
At first we were told we would get a copy in the mail if we were in it but we never got anything in the mail yet, so we assumed we did not make the cut! I found out about the book last week while book shopping and at first I fell on Stéphanes picture and I was so excited that I bought it right away no questions asked. Later on in the day I was looking through the book and then I found myself 10 pages further then Stéphane.
***
On nous a dit que nous recevrions une copie par la poste si nos photos étaient publiées mais nous n'avons jamais reçu ladite copie donc nous avons pensé que nous n'avions pas été choisis. La semaine dernière en faisant des achats dans une librairie j'ai vu le livre et j'ai découvert avec joie que Stéphane y était, j'étais tellement heureuse que j'ai acheté le livre sans vérifier si j'y étais. En rentrant à la maison j'ai regardé plus longuement et à ma grande surprise et joie j'y étais !!
We were pretty pleased that they picked us for this years book, we just wonder why they never sent us a copy?
Here are a few scans from the book, we posted some of our favorites
***
Nous sommes si fiers d'être dans le livre, mais nous nous demandons pourquoi nous n'avons pas reçu une copie?
Voici des scans de nos looks favoris
These two lovely ladies from Tokyo were my favorite of the whole section, the red accents just kill me!
***
Ces deux charmantes jeunes femmes sont de Tokyo – elles sont définitivement mes looks préférés! Les accents de rouge sont extras!!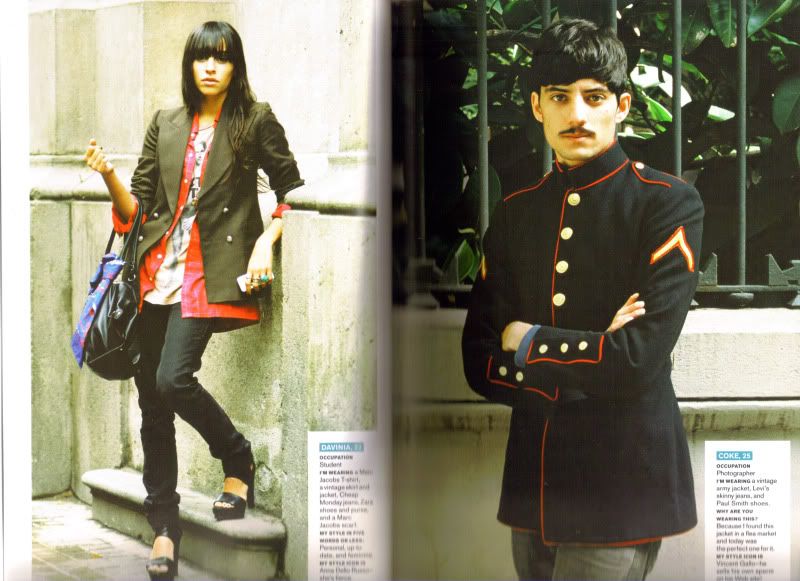 These two stylish kids are from Barcelona, I really dig this guys Sergent Pepper jacket and this ladies whole look.
***
Jeunes de Barcelone, j'adore le Jacket Sergent Pepper et le look de cette jeune femme.
I am in total love with the girl on the rights jeans, these two ladies are from Stockholm.
***
Je suis en amour avec les jeans de cette fille – Ces jeunes sont de Stockholm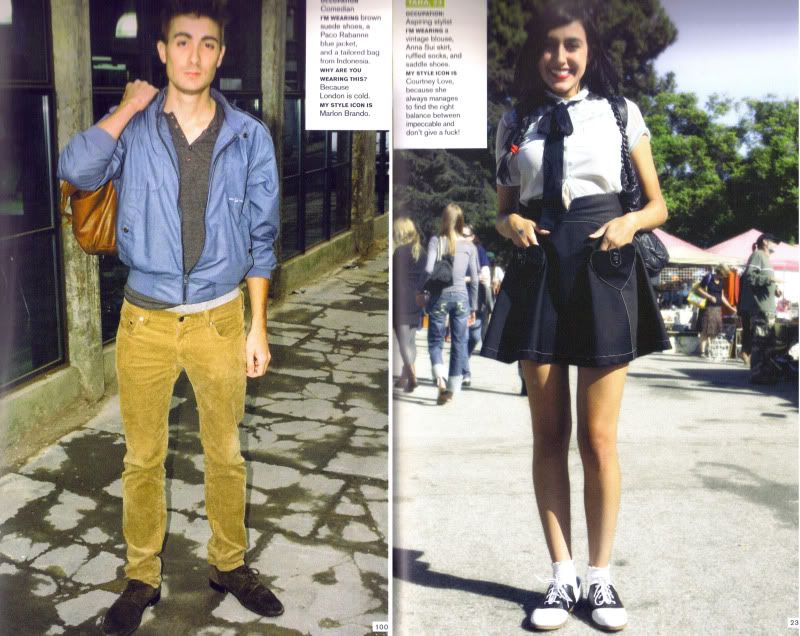 Stéphane liked this dudes whole outfit and I really liked this girls quirky vintage style ;)
Stéphane adore la tenue de ce jeune homme et j'aime le style vintage excentrique de cette fille.
Finally I liked these two ladies from London because they had great personal style and pull it off so well.
Et pour terminer deux ladies de Londres et leur style époustouflant!