Lost for words I am. Fall has always been my favorite season. I love the smell in the air, the cold wind, the dark days and the colorful trees.
It's been hard keeping up with the blog latelly, too much work on my mind! I found a hole in my weekend to add a much needed Fall oufit post. I went and checked out some Career women clothing this afternoon. I saw some pretty nice things over at Zara. I really enjoyed the geometric futuristic cut dresses and pleated slacks. Aww how I wish I had money! It's been so bad latelly! I barelly go thrifting and all my money went to this wool and kasha fabric for a coat I will be making in the next weeks to come...
I changed up my working area a bit at home today. I wanted my laptop and printer on a bigger desk since I take up alot of room when I am working. I need to find a table for my sewing machines now. I am dreaming of an industrial sewing machine these days. I fell in love with the one I use on Thursday afternoon's at school.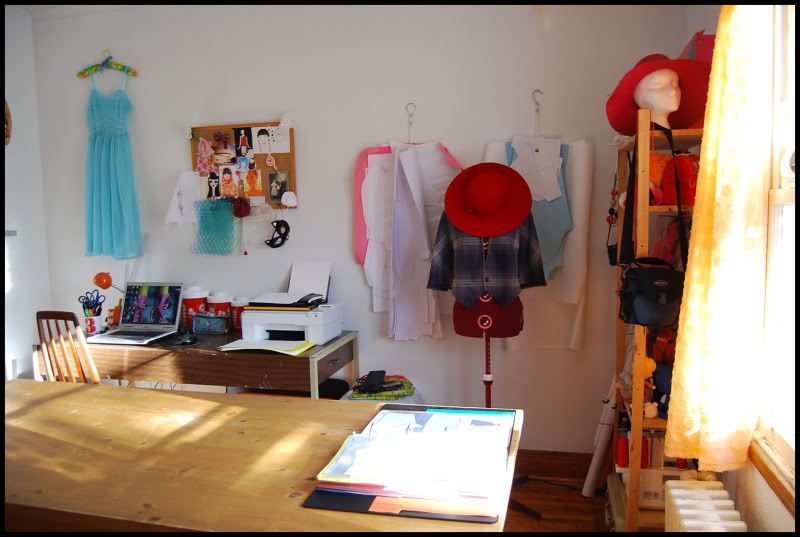 I am still working on those umbrella collection sketches, so stay tuned for those...
Oufit details:
-Vintage 60s fake fur and real fur collar cropped coat, ebay find from thriftwares
-Vintage tan tie collar blouse, thrifted
-Vintage 60s green wool scallop hem skirt, thrifted
-Green tights, Winners
-Vintage Brown leather boots, ebay
-Vintage brown leather gloves, given to me by Stéphane's mom :)
-Big Brown bag, Zara
-Purple cardy, thrifted
-Leather belt, thrifted