It's getting cold up here in Canada. We have been fighting with our new heating system at home. Appartements with heating included can really suck sometimes.
Asides from that it's great weather for layering and that has always been one of my favorite things to do. I love mixing colors, shapes and patterns. I got a chance to get my thrift on this week and picked up 2 dresses a top and some shoes. One is a brown 50s day dress with white rose buttons that go down the front, I must get a decent shot of it sometime soon. It's a summer dress so I need to figure out how to layer it right for Fall/Winter wear. The other one is the one I am wearing in today's outfit. A yellow cotton 80s dress with a metal zipper down the front with amazing sleeves and pleats. I adore the belted waist detail.
I finished my career girl research in the stores. It was very interesting to see the different design details in each category of clothing. I visited L'aubainerie and Zellers for the low end clothing, Zara and Femme de carrière for moyen de gamme clothing sorry for the french I have no idea how to translate that term in english and to top off the research I went over to Holt Renfrew to visit Chanel and Micheal Kors. I looked at everything on that second floor and I had a hard time figuring out who shops there. There was no one in sight, I mean who buys a 1500$ blouse that you could find at Village for 5,99$ ???
I can appreciate the design and details but really who buys this stuff for real and were are they and were are they wearing these beautiful garments?
Chanel was so beautiful but there were not many pieces, I loved touching the garments and seing the finishing touches.
My sketching for the collection is comming along, I have had no time to scan them in yet, I am not quite sure yet how I feel about it...
I will leave you with this oufit post: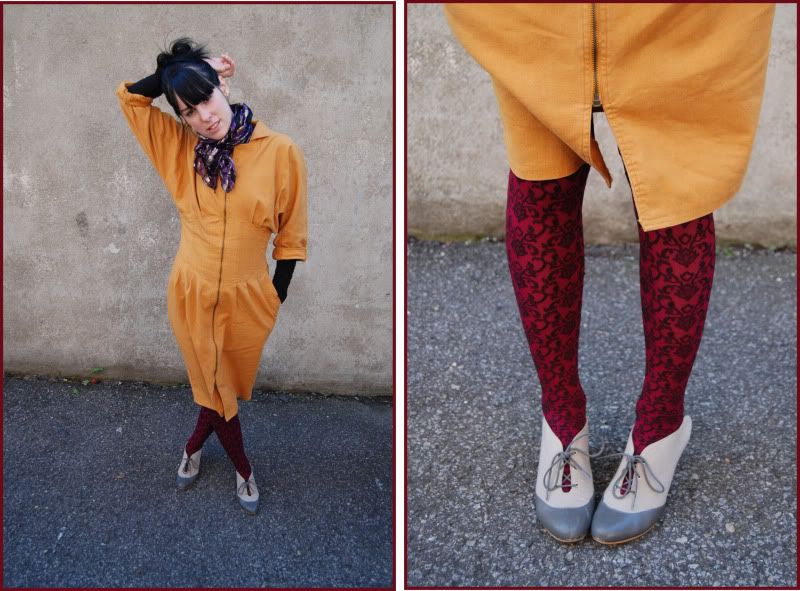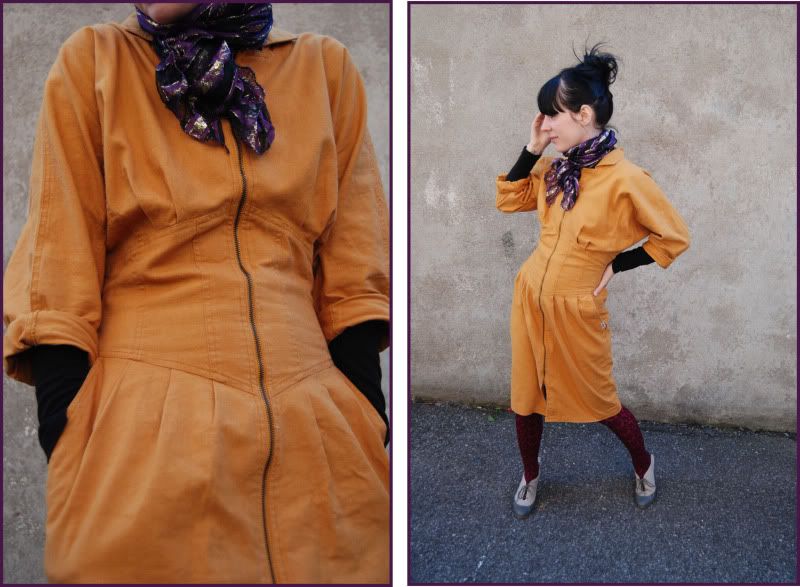 Here are the details:
-Scarf, gift from my grand-mother
-Vintage mustard dress, thrifted
-Black long sleeve tee, H&M
-Burgundy and black patterned tights, gift from mom
-Grey booties, UO