I am taking a wee little break to chat about what has been on my mind all weekend...
Ive been working on my flats all weekend, having fun analyzing jeanswear details and how to draw them. I think it's one of my favorite parts of fashion design, drawing. It's only been 3 weeks I have been back and I feel like it's been 3 months, Ive learned alot of new things in a such a short period of time. Ive been browsing online on many of my favorite blogs and I see so many great new collections comming out. I wish I had more time to just bust out a collection and sell it on etsy. But alas, I am still in the learning process of it all. They are making me sew a blouse in sewing class and sleeves in pattern making. I was having fun making a lantern sleeve patern from a miu miu collection on Friday. I actually get to make more interesting stuff this year since it's the last year before you actually make your final collection in teams. I have no idea how that will go, as for 99% of the students I go to school with a way way younger then me I have like a 10 year gap with them. I have a different way of thinking then them, but it does keep me in check with new ideas. I am scared but excited at the same time, but also scared I won't find a job after all this, the market is not like what it use to be, especially in Montreal. I think ill stick to selling my stuff online once I am done with the program, I don't see myself opening a shop here.
Me and Stéphane went thrifting this morning and found nothing, well I kind of did but the women at the cash was so slow and I wanted to do other stuff today so we left. We took the camera along and took some shots in the insdustrial area near Little Italy and Villeray.
Today I am wearing: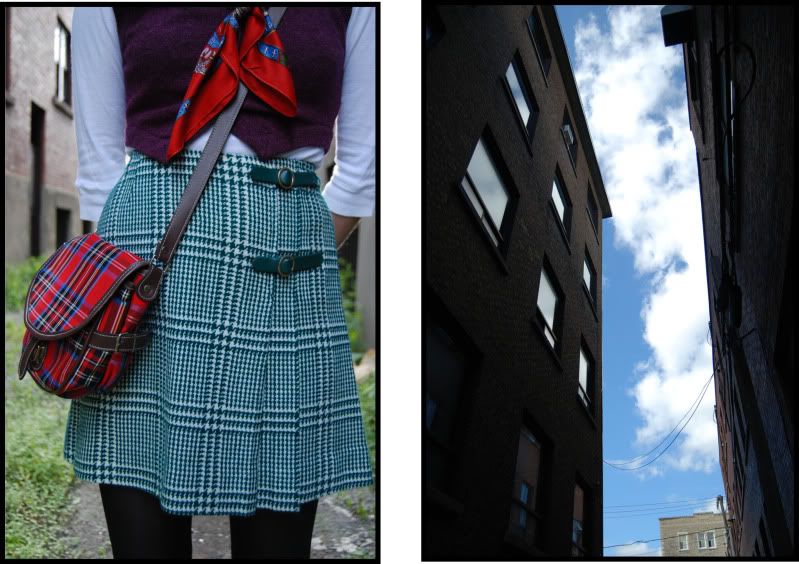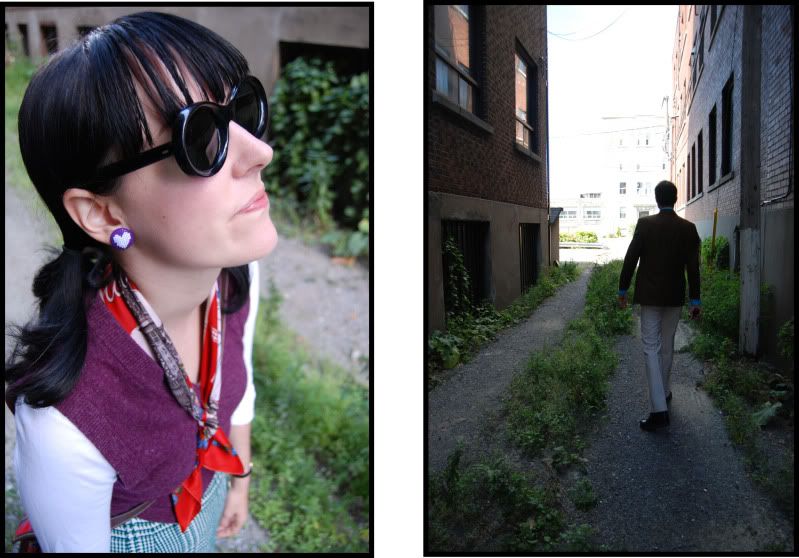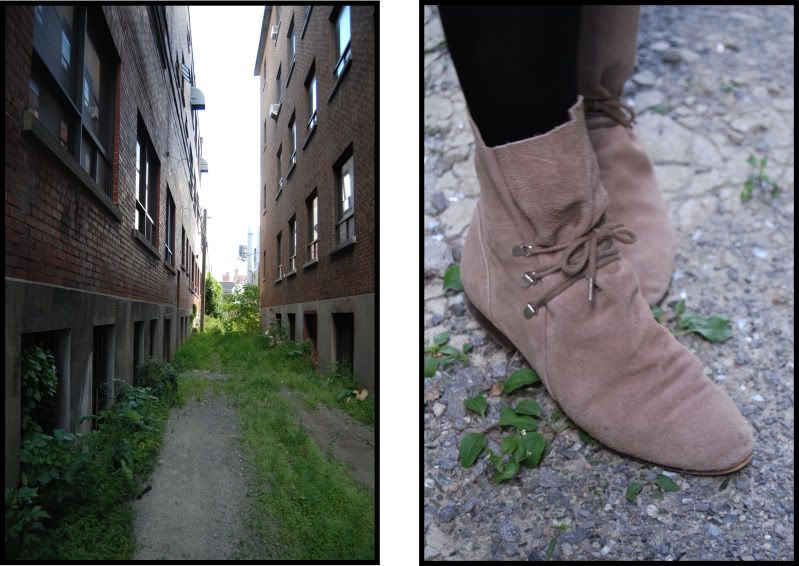 -White ¾ lenght tee from Old Navy
-Purple knit Esprit vest, thrifted
-Vintage Paris Silk scarf, also thrifted
-Vintage 60s green and white wool mini pleated skirt found @ Kensington market Toronto
-Black tights from H&M
-Vintage 80s suede booties also thrifted
-Vintage tartan purse, thrifted
-And lets not forget my lovely cross stich purple and white earrings from the
Pinpals